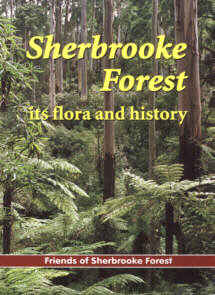 Get this book if you live in the hills or are just interested in forests. It illustrates rainforest, wet forest and damp forest species and was largely compliled by Vivien Freshwater, who has been at the fore-front of the very successful environmental weed eradication work in Sherbrooke Forest for over twenty five years and has written for several publications, including Flora of Victoria.

Up here in the deep red and brown soils on the mountain, if it's not in this book it's probably a weed...

The Belgrave Book Barn will happily sell you one for 20 dollars and they can be acquired through Amazon.com. Another small book by the Friends of Sherbrooke Forest, now out of print but available on CD through the FOSF website, called Weeds of Forests, Roadsides and Gardens, is just as valuable.
Click to order the CD from the FOSF Webmaster
As wheel re-invention is such a tedious task, we would be mad not to just direct you straight to
THE definitive list of forest and wildlife books, papers and other publications for this neck of the woods,
which naturally resides at the website of the Friends Of Sherbrooke Forest
Take some time to browse this interesting site, but do come back to ours

Click on this book for the FOSF bibliography pages