RE-ENFORCEMENTS AT LAST!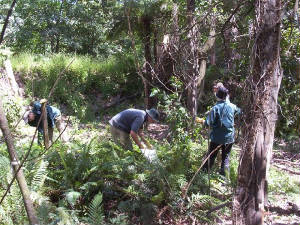 Tuesday Jan 24th, and the redoubtable Green Corps have arrived on the field. The Allies will have their help on a number of occasions over the coming few months. A big progress boost for the FOTTB and this forest.
Several fronts were opened, the largest beside the creek at the main road culvert. No friendly casualties reported.

The Corps return to the fray on the 14th of February and we shall engage the cestrum thickets above the creek confluence. It will be another St Valentines day massacre.
A good time is expected to be had by all.



Breaking & Merely Cracked News...
WASTED EFFORTS FIND FRIENDS FRUSTRATED
Rotten Road Run-off Wrecks Regrowth
A Special Report
The FOTTB and the Green Corps team have suffered a disappointing setback when shortly after they had spent days removing the re-emergent weeds from a sigificant re-growth area, beside the Monbulk Creek and below the main road, a rainstorm washed a truckload of road metal onto the site (again...)

The Friends are not having much success having this problem addressed by the power-that-be, VicRoads.
They have expessed the hope that they can attract some attention this time and have a permanent solution to the problem.

A new fence separating the road from the national park appears to be stuck somewhere in the same pipeline.

The above photograph indicates the condition of the ancient fence as well as showing the devastation to the newly rehabilitated bush.
Newsdesk Editorial
Where's Vic?
Our attempts to contact Vic have failed he won't return our e-mails. Mr Roads, if you read this, please consider our plight. This a becoming like a cruel joke. We're beginning to think you don't like us. The area already carries tonnes of blue metal from the previous washouts.
A 20 metre sealed spoon drain appears to be beyond the planning, funding and construction capabilities of Mr Road's organisation. We must be in a parlous state indeed.

One of the quirks of being a volunteer on land that is not your own is that quite often, some of the very people who benefit from the work, because they have less responsibilities and less to do, are less than helpful when we would like some quid pro quo and don't even return communications.

One can easily be taken for granted. Perhaps we haven't been trying hard enough...
Features
FRIEND'S FOREST FIND FIRST
Doodia australis, called the Rasp or Hacksaw fern for rather obvious reasons. The red frond is new.
A bushland volunteer has discovered a colony of the fern Doodia australis also known as the Rasp or Hacksaw Fern growing happily on the Puffing Billy Railway Right-Of-Way and this is the first report the Herbarium have of these ferns occurring in the Dandenong Ranges

An un-named source said that a small number of hen's teeth have also been found nearby, as well as the rare spoor of Tiltus Equestrius

The isolated and thriving fernery, located in Sycamore Parade, West Weed City, survives under a Maple canopy and was in the process of being overwhelmed by horrible rhizomeatous Bamboo, Holly and Cestrum elegans and it's estimated that they would have been swallowed up and eliminated by the weed growth within another couple of years

The destructive and all-consuming weeds have since been dispatched humanely and themselves eliminated from a buffer zone around the small fernery and care will be taken in the future to preserve it
A posse of local Kookaburras has been deputized and organised as a sentry detail