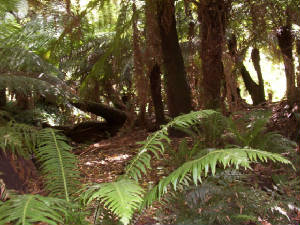 A solution in a forest walk
We are floating and promoting the concept of building a boardwalk, in the form of a timber tramway along the Clematis Creek linking the narrow-gauge station and the trestle bridge

Until 1927, Mahony's mill was situated several hundred metres upstream from the bridge and 3-foot gauge, wooden-railed tramways went along the Monbulk and Hardy's creeks out into the forest up as far as Cook's Corner

Another tramway connected the mill with the original Belgrave narrow-gauge station yard by first running under the trestle bridge and along the creek, arcing up to the old road over rail bridge and then running along the low side of the main street (there were no shops on the steep slope between the blacksmiths at the road bridge and the current Puffing Billy Cafe) and then down to the rail yard

A new tramway/boardwalk would be re-enstating this local feature
It's not as steep as any of the other possiblilities for a path and there are creek flats and it has a natural gentle fall from the station.

Very little excavation and disturbance is required for this type of construction, just holes in the ground
Even though the potentials and long-term benefits are plain, we shall outline a few

A boardwalk would have significant value-adding potential to Puffing Billy, providing something for visitors to do whilst waiting for train movements where at present they will often decamp for other attractions when there is a decent wait for a train

The boardwalk could be used in the railway's maketing as a forest walk adjunct to a trip on the little train. Part of the Puffing Billy experience.

It has the potential to attract visitors to station and bridge that come for reasons other than steamrail.

Many visitors aren't aware that there is a heritage bridge just down the road (just down the road indeed) and even the patrons on the trains who see it as they pass over it, would need a cut lunch and a blacktracker to go there for a closer look after their train trip.

There is an obvious destination potential from an easy rain-forest/bridge walk within 5 minutes of the big railway and the main street and benefits for other businesses who trade on the attractions of this town at the forest edge.

A facility such as this has potential to take some visitor pressure off some of the more well-patronised forest access sites. Grant's Picnic Ground sees 500,000 visitors a year.

The grades involved would facilitate disabled access into the forest fern gully, currently only really catered for at Grant's with it's Margaret Lester Forest Walk, a forest walk that doesn't give real access to a creek and closed fern gully.
Click picture for a map of the Selby tramways
It could be easily and efficiently constructed by employment schemes as a community benefit

We reckon such a project would compliment the heritage railway and has a modern style precedent in the recently opened Belgrave Town Park with it's replica trestle bridge switchback access ramp

Of course it would be only fair that we declare a vested interest here

We want people to be able to get into this fern gully and see how beautiful it is as well as getting workers into the area to get rid of the weeds, something currently very difficult and problematic

If you have a comment, either positive and supportive or negative and disparaging, we don't care which, then click on the Contact Us link at the bottom of this page and write or call us and tell us about what you think